FOR IMMEDIATE RELEASE 
Media inquiry (904) 891-0210
sandy@BCXcorp.com
January 9, 2023
Background Checks Express Continuing to Grow and Expand

Florida Firm Guides U.S. Employers through Changing Regulatory Environment
JACKSONVILLE, FL – Ten years after founding Background Checks Express (BCX), Sandy Steinman's company is trusted by more than 200 U.S. businesses to screen potential employees and is now expanding into more industries.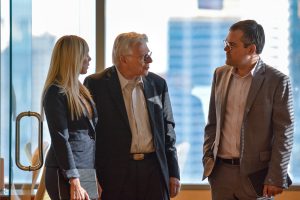 Steinman's life-long career as a corporate finance executive began after earning an Accounting Degree from the University of Miami in Coral Gables Florida, and MBA from Southern Methodist University in Dallas Texas. He began his career with a certified public accounting firm which ultimately merged into KPMG, becoming one of the Big Four auditors, and employing 189,000 people worldwide. From there he advanced to the highest levels of leadership, including Executive Vice President, CEO and President of large corporations in Dallas, Houston, Chicago and in Florida. He's also bought and sold companies throughout the last 30 years, and today Steinman leverages his experiences as a cutting-edge business consultant. Steinman is also the author of a book published in 2012 titled: The Small Business Turnaround Guide – Take Your Business From Troubled to Triumphant, a popular paperback used by companies for innovative and unique strategies to successfully turn their finances around and operate in the black.
Steinman started Background Checks Express after helping a janitorial services company to successfully turnaround, only to see the business owners lose everything in a lawsuit. One of the company's drivers assaulted a customer and, because the company did not conduct a routine background check that would have shown the employee's violent criminal history, the business was sued for negligent hiring. After a $1.8 million verdict, the business went under. Steinman saw the need for a company to not only conduct real screenings, but also be available to help interpret the results, guide the company through the legal process, and update corporate HR  departments with current-day best practices.
There's really a moral reason to check on top of a legal reason– you just can't put a known criminal in someone's home," Steinman said.
But without the right screening, hiring someone with a criminal background can happen to anyone. In fact, it happened to Steinman. Decades ago, when he was Vice President of Finance for a company in Dallas, he needed an accounts payable manager in a hurry. He hired someone from a temp agency and the new employee was great for about 45 days. That is, until vendors started calling Steinman and asking why they weren't being paid. It turns out the new hire was whiting out the names on the checks, replacing them with his own name and cashing the checks himself. The man had previously served prison time for embezzlement – which would've been a red flag for Steinman as he was hiring.
Employers want to do the right thing," Steinman said. "They don't want to put their businesses or their customers at risk."
With the regulatory environment rapidly changing, including more companies waiting to ask about a criminal background until the interview phase, Background Checks Express helps guide businesses through the process from start to finish. Some of the main industries BCX works with include; Trucking, Private education, Medical practices, Marketing & Sales, Technology. Recently, Background Checks Express expanded its reach to work with restaurants and property management companies – both for potential employees and potential tenants. BCX uses a wide variety of criminal history and credit history databases, and will tailor a search and plan to meet any business' needs. For more information, visit BackgroundChecksExpress.com
# # #